Youth at Inside Out
---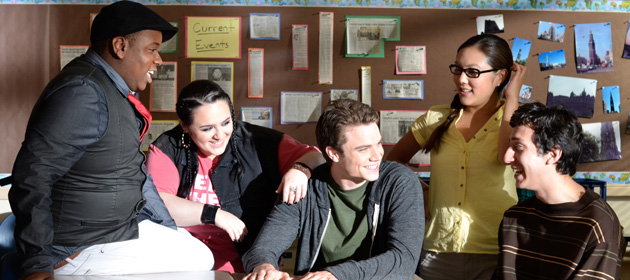 For the 2013 Festival, Inside Out has applied to the Ontario Film Review Board to request lower ratings for specific programs in the Festival. All screenings have discounted pricing for youth 18 to 24 (valid ID required). As well, for the screenings listed with lower ratings, we offer a special ticket price for youth under 18. Please refer to Ticket Prices.
Below are the featured programs and their ratings.
---
FREE YOUTH SCREENINGS
Screenings are free to youth 24 and under. Tickets must be picked up at the box office, subject to availability.
Friday May 24, 1pm | TBLB Cinema 2
Brent Hartinger's debut bestseller hits the big screen in Geography Club, a heartfelt comedy about a covert after-school support group for gay teens.
Rated 14A
Inside Out Student Matinee Bus Program – Support for Inside Out's program to increase accessibility to our Student Matinee screening of Geography Club is generously provided by the following:
Pier 21 Films

Tamara Bernstein

Scott Windsor

RBC Royal Bank
Saturday May 25, 12:00pm | TBLB Cinema 2
This utterly charming classic family film - winner of more than a half dozen children's film festival awards - tells the tale of Miss Minoes, a cat who is transformed into a young woman.
Rated PG
Queer Video Mentorship Project: 15th Anniversary Retrospective Shorts
Saturday June 1, 12:30pm | TBLB Cinema 2
In celebration of the 15th anniversary of the QVMP, we present new shorts commissioned from five past participants, along with q retrospective of their first videos, originally produced through the Project.
Rated 14A
---
YOUTH HIGHLIGHTS
Saturday May 26, 4:30pm | TBLB Cinema 1
When a hook-up app mishap outs the unassuming Tanner as Northgate High's first openly gay student, the uneasy truce between the school's trio of clique queens dissolves into comic chaos as each battles to acquire the season's hot new accessory-the Gay Best Friend.
Rated 14A
Tuesday May 28, 5:30pm | TBLB Cinema 2
Our teenage years are rarely easy and this collection of shorts captures those memorable moments, from high school conflicts and coming out to first crushes and sexual awakenings.
Rated 14A
Tuesday May 28, 7:15pm | TBLB Cinema 1
Meet a hip young couple and the alluring newcomer who threatens to drive them apart.
Rated 14A
An honest portrait of self-discovery and short-lived first love, Monster Pies tells the story of awkward, alienated Mike and his fast-blossoming friendship with Will, a transfer student whose apparent self-assuredness masks a troubled home life.
Rated 14A
---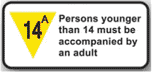 In addition to the screenings listed above, the following films have received lowered ratings from the Ontario Film Review Board.
---
Statement on Age Restriction
Admittance to all screenings, except as listed above, is restricted to those 18 years of age or older. Inside Out believes in freedom of artistic expression and is against discrimination based on age. Under the Ontario Theatres Act, however, film festivals are required to either adopt a blanket restriction or submit each film for classification.